Posted by
Spaz
on Dec 25, 2011 in
Author Interviews
|
21 comments
Next up we have my personal favorite author that I love to stalk, er um, fangirl over! I've had the pleasure of meeting her twice, and am so pleased I will get to see her again at AAD in NOLA!! Ladies and Gents, allow me to introduce Nicole Peeler!!!
What's next for you book-wise in 2012?
Tempest's Fury is coming out in the summer, which is book five. And I'll be writing book six! Denise Townsend has some stuff coming out with Samhain, too, so if you like paranormal erotica you should check her out. She writes the naughty selkies!
What is the worst gift you've ever received or given?
I think one of the odder things I've ever received was a huge, leather bound set of Winston Churchill's speeches. I actually enjoy reading them, now, but what made it odd was I got them for Christmas when I was eight. Looking back, I'm thinking there was some rather desperate regifting involved in that scenario.
What is your favorite Holiday food?
I love those damned marshmallow-corn flakes wreathes. They're like rice crispie bars but with corn flakes? I love those. I also love Christmas cookies.
What is your least favorite Holiday song?
I loathe all holiday songs. I about keeled over and died when I had to do body pump to a Christmas mix. It was torture. Well, more torturous than usual.
Do you have any Holiday traditions?
Not really, to be honest. I'm from a very secular family and we don't really stand by a lot of ritual, of any sort. We do usually have a big Christmas party which is always a lot of fun.
Any favorite Holiday memories?
I have a lot of rather hazy holiday memories. My aunt and grandparents used to drink old fashioneds, and they'd let me eat the fruit after it had been soaking in booze for hours. So looking back, I think I was slightly sozzled for most of my first Christmases. Which probably explains a lot.
If you could share one lesser known fact about yourself with our readers, what would it be?
In case you weren't convinced I had no soul, besides Christmas music, I also hate ice dancing and musicals.
NO SOUL!
The Jane True Series is one of my most cherished Urban Fantasy series out there. Here is more information about her books:
TEMPEST RISING – Jane True #1
In the tiny village of Rockabill, Maine, Jane True—26-year-old bookstore clerk and secret night swimmer—has no idea that her absent mother's legacy is entry into a world populated by the origins of human myths and legends.  It is a world where nothing can be taken for granted: vampires are not quite what we think; dogs sometimes surprise us; and whatever you do, never—ever—rub the genie's lamp.   For Jane, everything kicks off when she comes across a murder victim during her nightly clandestine swim in the freezing winter ocean.  This grisly discovery leads to the revelation of why she has such freakish abilities in the water: her mother was a Selkie and Jane is only half human. With this knowledge, Jane soon finds herself mingling with supernatural creatures alternately terrifying, beautiful, and deadly—all adjectives that quite handily describe her new friend Ryu.  When Ryu is sent to Rockabill to investigate the murder, he and Jane fall hard for each other even as they plummet into a world of intrigue threatening to engulf both supernatural and human societies.  For someone is killing half-humans like Jane.   The question is, are the murders the work of one rogue individual or part of a greater plot to purge the world of Halflings?
TRACKING THE TEMPEST – Jane True #2
Tracking the Tempest begins four months–and one eyebrow sacrificed to magical  training–after the close of Tempest Rising.  During that time, Jane's been busy  honing her supernatural powers and enjoying her newfound sense of confidence.    Rockabill may  not yet be heaven, but she's realized it's home.  Valentine's Day is  fast approaching,  however, and Ryu–Jane's bloodsucker boyfriend–can't let a  major holiday go by without  getting all gratuitous.  This time his shenanigans  involve a last-minute ticket to Boston  and a hefty dose of direct interference in her  life. But Ryu's best laid plans inevitably create  more upheaval than even he can  anticipate, and Jane winds up embroiled in  an investigation involving a spree of  gruesome killings committed by a being of  tremendous power . . .
. . . who, much to Jane's surprise, happens to be another halfling.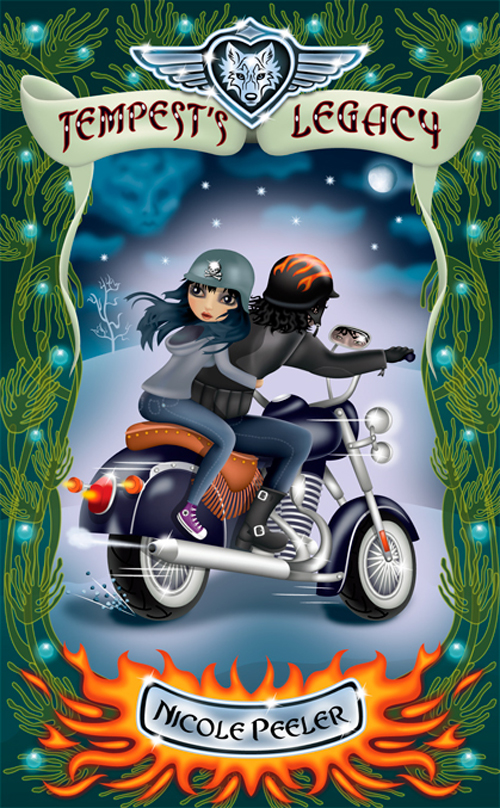 TEMPEST'S LEGACY – Jane True #3
After a peaceful hiatus at home in Rockabill, Jane True thinks that her worst problem is that she still throws like a girl – at least while throwing fireballs. Her peace of mind ends, however, when Anyan arrives one night with terrible news . . . news that will rock Jane's world to its very core.
After demanding to help investigate a series of gruesome attacks on females — supernatural, halfling, and human — Jane quickly finds herself forced to confront her darkest nightmares as well as her deepest desires.
And she's not sure which she finds more frightening.
EYE OF THE TEMPEST – Jane True #4
Nothing says "home" like being attacked by humans with very large guns, as Jane and Anyan discover when they arrive in Rockabill. These are professionals, brought into kill, and they bring Anyan down before either Jane or the barghest can react. Seeing Anyan fall awakens a terrible power within Jane, and she nearly destroys herself taking out their attackers.
Jane wakes, weeks later, to discover that she's not the only thing that's been stirring. Something underneath Rockabill is coming to life: something ancient, something powerful, and something that just might destroy the world.
Jane and her friends must act, striking out on a quest that only Jane can finish. For whatever lurks beneath the Old Sow must be stopped…and Jane's just the halfling for the job.
Eye of the Tempest will be available from all fine retailers from August 1, 2011, onward. North American readers can click here for links to Amazon, Borders, Barnes & Noble, Books-a-million, Chapters/Indigo, and Indiebound.
TEMPEST'S FURY – Jane True #5 – OUT JUNE 2012
Jane's not happy. She's been packed off to England to fight in a war, when she'd much rather be snogging her new boyfriend. Unfortunately, Jane's enemies have been busy stirring up some major trouble—the kind that attracts a lot of attention. In other words, they're not making it easy for Jane to get any alone time with Anyan, or to indulge in her penchant for stinky cheese.
Praying she can pull off a Joan of Arc without the whole martyrdom thing, Jane must lead Alfar and halflings alike in a desperate battle to combat an ancient evil. Catapulted into the role of the most unlikely hero ever, Jane has to fight her own insecurities as well as the doubts of those who don't think she can live up to her new role as Champion.
Along the way Jane learns that some heroes are born, some heroes are made, and some heroes are bribed with promises of food and sex.
Thanks so much for taking the time out to visit us and answer our questions! We can't wait to see you again next year in New Orleans at Authors After Dark 2012!
Nicole D. Peeler received an undergraduate degree in English Literature from Boston University, and a PhD in English Literature from the University of Edinburgh, in Scotland. She's lived abroad in both Spain and the UK, and lived all over the USA. Currently, she resides outside Pittsburgh, to teach in Seton Hill's MFA in Popular Fiction. When she's not in the classroom infecting young minds with her madness, she's writing Urban Fantasy for Orbit Books and taking pleasure in what means most to her: family, friends, food, and travel.
You can find her blogging here, as well as at the League of Reluctant Adults and Pens Fatales. She'd love for you to add her on Facebook (Nicole Peeler), and on Twitter (NicolePeeler). If you'd like to send Nicole a message, the best way to do so is through email, at IHeartSelkies(at)gmail(dot)com. The worst way is through Facebook Messages, as they tend to get eaten, and Nicole loves hearing from all of you.
Finally, go ahead and ask Nicole a question on Formspring. She'll eventually collate all these together for an author FAQ.
Nicole is giving away any MMPB (any author) from Amazon (under 7.99)! Just leave her a comment!